As a non-US citizen, you will need a visa to enter and live in the United State of America. The J-1 exchange visitor visa is one of the most popular visas for a temporary stay. But, if you are eligible for and interested in one of these programs, there are a few steps you need to take before booking your flight.
Step 1: Check Your Eligibility
You must first check if you are eligible for one of the 13 J-1 visa programs.
Are You Eligible for the J-1?
To know if you can get a J-1 visa, check your eligibility. It will tell you if you are eligible for this visa or not.
If the J-1 appears in your visa list, you may be eligible! But, before you do anything else, also check what program is right for you.
Which Program is for You?
Make sure to check the 13 different J1 programs and target the right program for you.
Step 2: Target the Perfect Open Position
You may be eligible for the J-1 program if you find a position in the same field as your work experience or your degree.
So, you should only target a position in your field at companies that have worked with J-1 trainees.
To find J-1 companies and related open positions, look through our J1 opportunities.
Step 3: Get an Interview Scheduled With a Company
Once you have selected the right open position for you, the next step is to get in touch with the company and land an interview.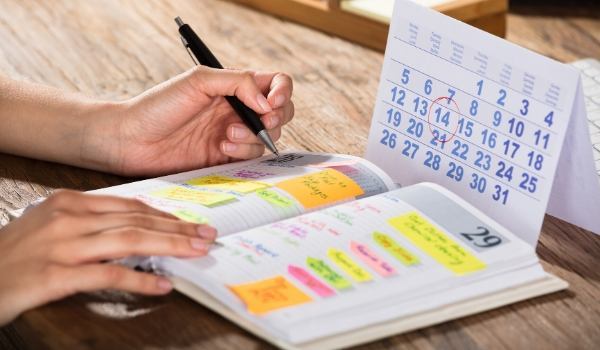 It can be an informational interview if you need to get an internal referral or a job interview with a recruiter.
Before your first conversation with someone inside the company, you should make sure you have a J-1 sponsor organization under your wing.
So, once you have an interview scheduled with a company, don't wait – find your J1 sponsor organization!
Step 4: Find Your J-1 Sponsor Organization
As a reminder, you won't be sponsored for a J-1 visa by your company but by a sponsor organization.
There are hundreds of sponsor organizations for the J-1 visa. You can find all of them on the government's official site. It's a list compiled by the Department of State and, therefore, regularly updated.
Select the Best Ones for You
Your job now is to find one that matches your expatriation project.
Go ahead and select a J1 program on the site. You will only see J-1 sponsor organizations for a specific program because each sponsor organization specializes in one or three J-1 programs only.
Then, you can search for a sponsor based on your citizenship, your field, and the location of your employer (or, if you still can't find one, in the city or state where you wish to relocate). You don't have to worry too much about the organization's location, however, as most sponsoring entities can place you throughout the United States.
Reach Out to Them
Contact each J1 sponsor organization you have selected one by one until one agrees to sponsor you. This is not their final decision, but you should continue with this pre-selection phase in order to proceed.
Please note that if one sponsor organization refuses to sponsor you, that doesn't mean that other organizations will also reject you. Each organization has its own rules regarding the criteria for eligibility and characteristics (some have age limits, others do not, etc.). So, depending on your profile and what you are looking for, the first organization you contact may not be the best one. It's important you find one for yourself.
You should keep contacting organizations until you find one that meets your expectations (see below) and that will agree to a J-1 sponsorship.
What You Should Verify With Your Sponsor
There are a few things you should verify with a sponsor before choosing them.
What is the Processing Time for Obtaining Their Approval?
Some sponsors take 3 weeks, and others take 3 days, to give their final sponsorship approval. It may depend if you need the visa urgently or not.
Please, make sure you are aware of their processing time, especially if your project is urgent!
Do They Allow a J-1 Transfer to Another Company?
This question regards a situation in which your program with your employer falls through. Some sponsors allow you to transfer your J1 visa, some will if given a justifiable reason, and others do not at all.
Your J-1 visa is connected to your employer. In other words, if you cannot transfer your visa to another company, you will have to terminate your J1 program and leave the U.S. immediately.
How Much are Sponsor Fees?
Visa fees depend on your J-1 program's duration and on the sponsor organization. Some are cheaper than others.
You should make sure that you understand the price, what it includes, and if there are any extra fees you will have to pay. It's incredibly important to know this information if you will pay the fees yourself.
Once you have chosen your sponsor organization and are pre-approved for sponsorship, it is time to prepare for your first interview with the company!
Step 5: Get Your Job Offer With Your Company
Before you go to your interview, whether it is informational or formal, you should:
have a J-1 sponsor organization.
be prepared for your interview (regular preparation).
be prepared to negotiate your visa request.
Be Prepared for Your Interview
If it's an informational interview, you know that you will need to lead the meeting with your contact.
If it's a formal "job" interview, you will have to prepare as you would for a regular job interview.
Be Prepared to Negotiate Your J-1 Visa Request
Expose the tax benefits the company has to hire you!
Step 6: Apply for Your J1 Visa
Once you are pre-approved by your J-1 sponsor organization and have an offer from your employer, the final step to getting the J1 visa is to apply for it.
Are you looking for a J-1 visa? Where are you in the process? Share your comments below!