Important notice before reading this post: nothing in this article is intended to be legal advice, and all information is for educational purposes only.
This article has been reviewed by a certified immigration lawyer.
As a reminder, you must adapt your job search strategy according to the visa that suits you. Of the 15 J-1 visa exchange programs, we're going to talk about the Trainee program.
The J1 Trainee visa is actually the one that Max got in 2018, after the E2 visa. At the same time, I got the J2 visa, which is a spouse visa related to the J1.
In this article, I will explain:
What is the J1 Trainee visa, and who is it for?
The J-1 Trainee visa is specifically intended for those who wish to strengthen their skills and gain more experience in their professional field.
The use of this visa for employment purposes is strictly prohibited. So, you and your "employer/trainer" will need to provide your sponsor with a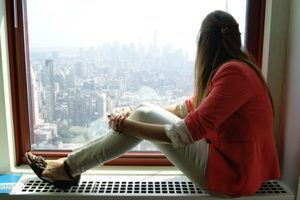 "training program" to prove that you are not applying for an employee position, but rather, a corporate training plan.
The training program should not duplicate any of your previous work experience or training. You will need to demonstrate in your training program that you will acquire or enhance the skills that you already have, as well as those you need to work on.
For you to understand better, I will share our example. Max managed to get a J1 Trainee visa last year. The training program of his visa allowed him to become a senior software engineer. So, he had to demonstrate that his J1 program would allow him to strengthen his skills.
The criteria of eligibility for obtaining a J1 Trainee visa
To be eligible for this visa, you must have:
a degree in higher education or an equivalent certificate obtained in an institution outside of the United States
at least one year of experience outside the U.S. territory in the sector of ​​activity you want to pursue (note that if you do not have any professional experience but have a degree, you may be eligible for a J-1 intern visa, limited to 12 months)
your field listed below
OR
5 years of experience (starting at the age of 18) outside the U.S. territory in the sector of activity that you wish to strengthen
your field listed below
There is no age restriction, nor is there a number of years of experience required, for the J1 Trainee visa. However, it may be harder to qualify if you are older or have lots of senior professional experience. Max had more than seven years of experience as a software engineer when he obtained his J-1 Trainee visa.
You should always confirm the criteria of eligibility with your sponsor organization, because each organization has its own rules. I will detail the way to find a sponsor organization a little later in this article.
The eligible sectors
Warning! This J-1 Trainee visa is not suitable for unskilled positions. You will also not be able to apply for childcare, eldercare, or for care/contact with a patient. For those fields, you may be eligible for other visas or J-1 program visas, as with the J-1 Au Pair, or the J-1 Physician. In addition, you should not be hired to do more than 20 percent of clerical work.
The sectors eligible for obtaining a J1 Trainee visa are:
Agriculture, Forestry, and Fisheries

Arts and Culture
Construction and Building
Education, Social Sciences, Librarianship, Counseling, and Social Services
Health
Hospitality and Tourism
Journalism and Communication
Management, Trade, and Finance
Public Administration and Law
Science, Engineering, Architecture, Mathematics, and Industry
The characteristics of the J-1 Trainee visa
All advantages of the J1 has that you can use to approach companies.
J1 Trainee Visa duration
Depending on the training program, the sector, and the sponsor organization, the duration of the visa can vary from 3 weeks to 18 months, and it can be up to 12 months for the hospitality industry.
J1 extension
You can participate in as many J1 Trainee programs in the United States as you want as long as you are still eligible, and this lasts throughout your life. However, you will be able to get a new J1 Trainee visa only if you live outside the United States, and usually this is only if 24 months have passed since your previous J-1 Trainee program. Again, all of these factors depend on your sponsor organization and what they agree upon.
Can I transfer from a J1 to another visa?
The J1 Trainee visa is an exchange visitor program. Your intention here is to enhance your skills and expertise in the United States only, during the time of your J-1 visa. This will allow you to put it to good use in the rest of your professional career outside the U.S., especially in your home country.
However, if you currently have a J1 visa and want to change your status to a H1B or another visa, check first if you are not subject to the 2 years rule.
Where can I find companies that hire people on a J1 trainee visa ?
U.S. companies come to us every week, looking for hiring a J1 trainee. We vet those, and we connect those with J1 trainee applicants. Here more information
Then, you will need to apply for a J1 visa through your sponsor.
To go further, find interviews and testimonials from people who have obtained a J-1 visa.
Interested in the J1 Trainee visa? Or, have you ever benefited from this visa? Share your experience in the comments below! 🙂