What is a J-1 Visa Sponsor?
Your J-1 sponsor won't be the company (or family) that you will work for, but rather a private company, a J-1 sponsor organization, that will sponsor you for the J-1 visa. You still must make sure that both you and your company respect the law and the requirements of your visa.
A sponsor organization won't pay you. On the contrary, they will charge you, your company, or a government office for their services.
How do I Find a Sponsor?
You can find yourself in two situations:
The company has hosted J-1 holders in the past, and they already have a J-1 sponsor they work with. In this case, you may not have any other choice but to choose that sponsor organization.
The host company doesn't have any preference and leaves you the option of which sponsor to choose.
In the first case, depending on your relationship with the company, you can either accept the sponsor or try to negotiate for a different one. As we will explain below, many sponsors offer the same services but with different prices and varying parameters.
When Should I Find My Sponsor?
You must get a job offer from a US-based company in order to be sponsored for a J1. So you should search for a sponsor only once you have scheduled your first job interview with a company that may hire you, not before.
If you don't have any interviews scheduled with a company yet, check the J-1 open jobs listing, apply, and land an interview before going any further with your sponsorship search. For that, you will need to create a USponsorMe account.
Top 3 Known J1 Visa Sponsors for the Trainee Program
To help you, we have collected the three best-known sponsors for the J1 trainee visa, and we compare the three most important pieces of information you need to collect from them: pricing, processing time, and if they allow you to transfer your J-1 to another host company if needed.
| J1 Sponsor | Pricing* | Processing Time | J1 Transfer allowed? |
| --- | --- | --- | --- |
| Intrax | $2,740 | Within 2 weeks | Yes, if extremely urgent |
| CIEE | $3,500 | From 4 to 6 weeks | No |
| InterExchange | $2,245 | Within 17 days | Yes |
* This is the price for the 18 month-program and does not include the embassy appointment, on-site visit to the company, fast application process (if needed), and all personal expenses (plane, living, etc.).
You have to keep in mind that these prices are changing regularly. The prices mentioned here are valid in January 2020 but are subject to change.
We work with several sponsors, apply for our J1 program.
How to Choose My J1 Sponsor?
If you have the freedom to choose which sponsor best suits your needs and your budget, it's very important you thoroughly investigate each one and choose wisely. You should focus on three primary elements: pricing, processing time, and J-1 transfer allowance. Your sponsor will be one of your privileged contacts for the duration of your time in the US.
Regarding the pricing, also check with the sponsor organization for what services are included in their price. It's very important to understand the price details since you will have to pay mandatory fees to apply for the J-1 regardless.
So make sure you are aware of these details because choosing a cheaper sponsor can actually result in paying more, like when their service fees exclude a lot of mandatory fees. Check here to see what the J-1 fees are in detail.
To do this, prepare a list of questions and write down all details about your case. Then call various J-1 sponsors so that you can see different prices, but also, most importantly, what services and fees are included in their price. The sponsor must be willing to clearly answer your questions. If you feel the representative is just trying to rush you to pay, take the time to call another sponsor and compare notes before making a decision.
Is it Mandatory to Have a Sponsor?
It is obligatory for you as a candidate to have a sponsor: you cannot directly deal with the company yourself. The sponsor can help you through the administrative process before you arrive in the United States, provide assistance during your time in the country, and ensure you finish the process correctly.
It is also an obligation for the company to collaborate with the sponsor. They have to respect a certain number of rules regarding the work environment and the employment of foreigners.
Your Sponsor is at Your Side Every Step of the Way
After you get your visa, your J-1 sponsor will be with you from the beginning to the end of the program.
Before You Arrive in the USA
Before you leave for the United States, your sponsor will provide you with a file called DS 2019 (used for both interns and trainees), which means you have been officially approved for a J-1 sponsorship.
For this, the sponsor will ask you to provide a list of documents. They will also conduct an interview to determine if your profile fits the job position and the specifics of the J-1.
When You Arrive in the USA
After you obtain your visa and once you arrive, you must send to your sponsor your travel validation I94, US mailing address, US phone number, and Social Security Number.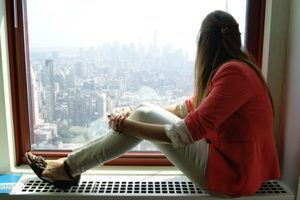 During Your J-1 Program
After that, if you have any questions or concerns regarding your program, you have to contact your sponsor. If you wish to travel inside or outside the United States, you have to fill out a form with information about the trip and send it to your sponsor for validation. This is very important: do not book any plane tickets or hotel reservations before you have the sponsor's approval. You can't leave if you don't have approval.
The sponsor will conduct an evaluation halfway through the program with you and your company.
At the End of Your Program
At the end of your J-1 program, your sponsor will make sure you leave the territory legally by providing the necessary documents.
In Conclusion
As we explained before, choosing the best J-1 sponsor for yourself requires research. Focus on getting a sponsor that fits your expectations. You should get in touch with several sponsors, talk with them, ask for quotes, and go online to look at their reviews.
What are the criteria that concern you the most when choosing your sponsor? Share your answer in the comments below!